Pacifica, CA (reprise)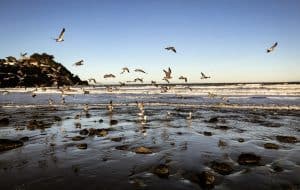 There is an ongoing debate amongst the liberal-California gun-control, pro-choice, pro-LGBT, anti-fascist, West Coast elite; who rocks the 21st-Century "caulk" more, NorCal or SoCal?  It's a debate that may never get settled, because we're so hella-righteous that perfection is hard to accept. I've done both. I've spent long years withering away priceless youth and perspective talent on day jobs in unequal proportion to day-dream Cali hopes and dreams.  My first love of the almighty Gold Coast traveled through the wild drunken self-destructive prose spat from the ghost of Jack Kerouac.  There was some familiar voice between the rambling lines, misfits, misadventures, and search for the American Dream that rattled around in my ear – strangling the tiny cries of common sense. I spent Memphis evenings whirling away in dive bars, deep in pocket notebooks, scrawled observation in desperate measure to take in and take down all that I could with my 20-something ramshackle life.  As Bowie inspired a high-stakes time table, an echo deep inside of my stomach reverberated that we only had 5 years left on my eyes.  I wasted the best of my years, made bad decisions, chased dead-ends, and showed up for work with a Boy Scout's loyalty and determination even though I may have been reeling from the previous night's enterprise.  The pedestrian exaltation of 'Ol Jack's adventures in Big Sur, enamored me with such a sense of self-destruction I just new that the Californ-eye-yea coastline was the place for me.
I arrived in Pacifica California in November of 2006.  A boy born in Kansas and landlocked until the age of 29, viewed the windy gray Pacific coastline of my new home as giddy as an unshackled dog.  I had only seen the ocean once before in my life, a brief 8-month living arrangement in Ridgefield, Washington and a week of Boy Scout camping on the Oregon coast. Treated to the gray foggy crags of cliff-drop death, drift wood, visions of Goonies, and a swoon that filled my lungs, the west coast had poisoned a boy of the plains against himself.  From that point on I would never wish to go "home."  The sea was my home and I would stare at it's violent majesty until we were wed in an evening of drunken neon glow, jazz, and the endless sea vomit at the edge of the world.   San Francisco was the beacon call.  In this gilded international city of hilltop reverie I would enter my third and fourth lifetimes – spans of 7 years and high water marks that were lost and found on so many different occasions – remembered, forgotten, and brought back 'round with hints of déjà vu vu and déjà rêvé.
In September of 2017 I took a job with a Fortune Five corporation, a decision that offered enough silver and gold to make a return to the 7×7 City of Neverland. A San Francisco reprise was an impossible task. The very thought of it was akin to the spiderweb imagination of winning the lottery. If I had a million dollars it still wouldn't be enough to return, we'd need at least a $2 million lottery win to move back to San Francisco. I'm not asking for much, it doesn't have to the be half-a-billion-dollars jackpot. I'm only asking for $2 million. Once you leave these rolling hills dripping in ocean fog, odds are you'll only ever see her again in photos and think about the good times of your younger years a lifetime ago.
Yet, it happened. Punk Rock Bevan had left Memphis, traveled to San Francisco, worked and lived in Los Angeles, made film projects, worked with childhood heroes and celebrity friends (thanks LB!), been behind the scenes at all of the Hollywood glitz and glamour, and run his own freelance business. Through a network of old co-workers, a (somewhat) interesting resume of work, a love of the SF Bay Area, and maybe a little Don Draper charm I had fashioned a plan that would bring us back to San Francisco. More specifically we found a way back to the amazing sleepy little bedroom beach community of Pacifica, CA. I'm not knocking it at all. Punk Rock Bevan always wanted a Don Draper job. I had been working my entire career for a job which allowed for snappy dressing, clean hair cuts, and a creative streak that overshadowed all of the dark little pieces of sand still wedged in the cracks.
Since returning to P-town, I've picked up surfing again. Throughout the 7 years of Los Angeles' uphill battle I might have gone surfing 5 times. Within the first two months of being back I had traveled to Hawaii, worked in London, surfed a handful of Linda Mar weekends, dined at all of my old favorite restaurants, traipsed through the neon city to all of my beloved dive bars, met friends for foggy drinks, spent afternoons with business lunch cocktails… you know, really settling into the comfortable bit of 40's mid-life crisis sell-out that I willingly took with a smile stretched ear to ear. I was in love with my life again. I was in love with Pacifica. We could actually afford to do this with exorbitant rent, paying for pre-school, a part time nanny, $200 trips to Target (where in the FK does it all go?), and occasionally slipping out for date nights. The wife and I took time for gut checks: "Was this the right decision?" "Are we happy?" "This was the right decision, yeah?" "We're okay, yes?" "We're glad we're back, aren't we?"
It didn't seem real. We were always waiting for the other shoe to drop. So, a year and change into being back in Pacifica – the corporate day job took off the other shoe and threw it at my head, bursting the bubble of lottery-win hopes and dreams sending it sailing down in jagged little pieces of cold hard reality. The corporate headquarters would be relocating to Irving, TX – a business park suburb of Dallas, TX. All of the jobs at the SF headquarters would be relocated to Dallas. And that's where we are. Move to Texas? Find another gig in the SF Bay Area that will allow me to continue paying rent at this rate? Arguing the Pros and Cons of go-or-don't-go I'm sure will weigh heavily on the "this makes adult sense Pros" vs the "we just got back here emotional cons." I've got a lot to deal with before an official decision has to be made for the company. We've got to think about life, the future, kids, retirement, mid-forties, the death of Punk Rock Bevan, and do we return to the south? I guess I'll spend a lot of time surfing and listening to Neptune in the hopes that there is some clear cut clarity that blasts through the fog and sea foam. My father in-law dropped a fantastic nugget from his 81 years of be-bopping around the globe, "there is no right answer." And there you have it folks. Life is short, hard, often pointless, full of fools, and death is random – it's like the Cohen Brothers know what they're talking about.